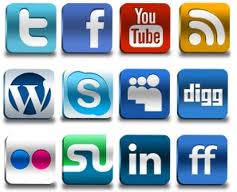 You know it. Heard of it or quite frankly have thought if it. Social Media. The concept has swept the globe and now, you either want to be a part of it or improve upon what you currently have.
At EzBrz Group, we are experienced at not only using many of the social media outlets today but we enjoy using them. At a business or personal level, we will setup and teach you how to be successful and creative, to build your social network with business partners, colleagues or family and friends.
The drive for social media can include:
Social Media Marketing Strategy
Professional Community Networking
Blogging (Building that Blog Profile)
Branding
Original Content
Client Approach (Huh? Give us a call. We'll tell you)
As this is only  a few of the  elements of what can drive you to the interest of social media, we are here to be with you every step of the way.
EzBrz Group provides an array of services that are customizable to truly meet what you are looking for.  Whether it's organizing your sites, creating new ones or just adding content, give us a call.