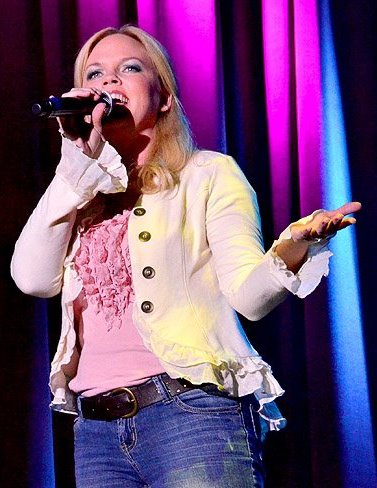 Many times we come across those who just simply make an impact on the lives of those whose paths they cross and it's a pleasure to witness, or, to be in that path.
I met such a person and she is Sandra Huntsman. Singer, Performer, Mother, Wife and a Friend to many.
As I have the distinct pleasure of serving with those in the "Project Teddy Foundation", I first met Sandra at the "You'll Be In My Heart" benefit, for Project Teddy. A foundation she supports and believes in. Thanks Sandra!
Sandra and her team sang a great rendition of Disney Tunes and never missed a beat. They engaged with the audience and at one point had most of the crowd at The Ovation Room in Green Valley Ranch Resort, Las Vegas, NV,  on their feet, singing and dancing to these tunes. Better yet….What a voice that carried these tunes. Sandra was on target and made the evening a joy. Thanks Sandra.
So who is Sandra? Well here is more to share about her but take my advice, if you're in Vegas take an opportunity to catch Sandra in one of her many ventures.  Whether with Smokey Joes Café,  singing with the Leadin Ladies or…..well just check out her site for upcoming performance dates and see what you can fit into your schedule and enjoy a fantastic singer and performer.
Sandra Huntsman is a singer, actress and musical theatre performer. Singing is her true passion and she loves to sing many styles of music, from opera to musical theatre to rock and roll!
Her stage credits include Mrs. Walker in The Who's Tommy, Emma in Jekyll & Hyde, Eliza in My Fair Lady, Miss Dorothy in Thoroughly Modern Millie and Amneris in Elton John & Tim Rice's AIDA and Andrea in Once On The Island.
Sandra currently performs in Smokey Joe's Café at the Ovation Room in Green Valley Ranch and is a sub for Shades of Sinatra, performing at the Clarion Hotel/Casino. She recently recorded for Jack Kent Tillar.
Sandra is married to award winning local theatrical director, Steve Huntsman and also has a love for costume and design.
For more information on Sandra Huntsman, please visit www.sandrahuntsman.com